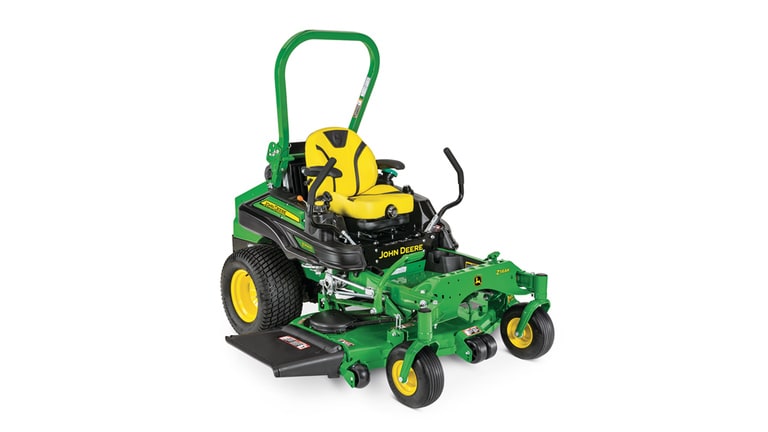 Commercial ZTrak™ Zero Turn Mowers
Z994R Diesel ZTrak™ Zero-Turn Mower
24.7 hp (18.4 kW) liquid-cooled diesel engine
ComfortGlide™ Suspension on all seat options
11.5 U.S. gallon fuel tank (43.5 L)
7-Iron PRO Deck
Rear Discharge Deck
Mulch On Demand™ Available
Specs & Compare
Specs & Compare

Select up to 4 models to compare specifications

John Deere

Z994R Diesel

ZTrak™ Zero-Turn Mower
Key Specs
Engine Manufacturer/model
3TNV80F
Engine Power
Gross at 3,200 rpm, PS: 24.7 hp
18.4 kW
Fuel tank capacity
11.5 U.S. gal.
43.5 L
Mower deck Size
Side discharge, 54 in.
137 cm
Side discharge, 60 in.
152 cm
Side discharge, Mulch On Demand™, 60 in.
Side discharge, 72 in.
183 cm
Blade tip speed
Approximately 16,000 fpm
4,877 m/min
Transmission
Dual hydrostatic wheel drive TuffTorq™ heavy-duty ground drive with cross porting for improved cooling
Speed range
0-11.4 mph
0-18.3 km/h
Drive wheels
24x12.00-12 4-ply turf, optional 24x12-12 Michelin Tweel™ turf tires
Caster wheels
13x5.0-6 flat free
Warranty
36 months or 1500 hours, whichever comes first, no hour limitation for the first 24 months.
Engine
Manufacturer/Model
3TNV80F
Power
Gross at 3,200 rpm, PS: 24.7 hp
18.4 kW
Displacement
77.3 cu in.
1.27 L
Cylinders
Three
Crankcase capacity
3.6 U.S. qt
3.4 L
Oil filter
Full flow, replaceable, spin-on type
Lubrication
Full pressure
Cooling
Liquid
Air cleaner
Pre-cleaner
Yes
Heavy-duty canister, dry type with safety element and air-restriction indicator
Fuel system
Fuel type
Diesel or Biodiesel (up to B20)
Fuel consumption
Fuel tank capacity
11.5 U.S. gal.
43.5 L
Fuel tank switch/shut-off valve
Yes
Electrical system
| | | | | |
| --- | --- | --- | --- | --- |
| Charge system | 75 amp | | | |
| Battery voltage | 12 V | | | |
| Cold cranking amp | At 18 degrees C, 600 amp | | | |
| Hour meter | Digital multi-function display | | | |
| Operator presence starting system | Standard | | | |
Drivetrain
Transmission
Dual hydrostatic wheel drive TuffTorq heavy-duty ground drive with cross porting for improved cooling
Hydraulic pumps
Wheel motors
Travel speed
Speed range
0-11.4 mph
0-18.3 km/h
Forward
0-11.4 mph
0-18.3 km/h
Reverse
0-4.5 mph
0-7.2 km/h

Speed and direction control
Zero turn
Hydraulic capacity
5.9 U.S. gal.
5.6 L
Hydraulic oil cooler
Fins and fan
Filter
Internal, replaceable
Buyer's note
| | | | | |
| --- | --- | --- | --- | --- |
| Warranty | 36 months or 1500 hours, whichever comes first, no hour limitation for the first 24 months. | | | |
Tires
| | | | | |
| --- | --- | --- | --- | --- |
| Drive wheels | 24x12.00-12 4-ply turf, optional 24x12N12 Michelin Tweel turf tires | | | |
| Rear tires | 24x12.00-12 4-ply turf, optional 24x12N12 Michelin Tweel turf tires | | | |
| Load rating | 4PR | | | |
Brakes
| | | | | |
| --- | --- | --- | --- | --- |
| Dynamic braking | Twin motion control levers | | | |
| Park brake | Internal wet disk integrated in the transmission | | | |
| Park brake actuation | Foot brake engagement also brings steering levers to the neutral position | | | |
PTO
| | | | | |
| --- | --- | --- | --- | --- |
| Type | Electric clutch | | | |
| Drive | V-belt | | | |
Mower decks
Size
Side discharge, 54 in.
137 cm
Side discharge, 60 in.
152 cm
Side discharge, Mulch On Demand, 60 in.
Side discharge, 72 in.
183 cm
Deck construction
One-piece stamped steel with reinforcements
Deck thickness
7 gauge
0.18 in.
4.6 mm
Discharge
Side-discharge, Side-discharge, Mulch On Demand
Height-of-cut range
Increments
0.25 in.
0.64 cm
1-5.5 in.
2.54-14 cm
Cutting width
54, 60, 72 in.
137, 152, 183 cm
Blades
Length
Varies by deck size
Thickness
0.25 in.
0.64 cm
Blade tip speed
Approximately 16,000 fpm
4,877 m/min
Number
Three
Wheels
| | | | | |
| --- | --- | --- | --- | --- |
| Caster wheel type | Flat free | | | |
| Caster wheels | 13x5.0-6 | | | |
| Front anti-scalp rollers | LH, RH, Center | | | |
| Rear anti-scalp rollers | Standard | | | |
Dimensions
Length
88.6 in.
225 cm
Width
With 54-in. side-discharge mower 68 in.
172.7 cm
With 60-in. side-discharge mower 74 in.
188 cm
With 60-in. Mulch On Demand side-discharge mower 74 in.
With 72-in. side-discharge mower 86 in.
218.4 cm
Height
With ROPS up 73 in.
185 cm
With ROPS down 47 in.
119 cm
Weight
54-in. side discharge 1,660 lb
753 kg
60-in. side discharge 1,700 lb
771 kg
60-in. Mulch On Demand 1,720 lb
780 kg
72-in. side discharge 1,760 lb
798 kg
Additional information
| | | | | |
| --- | --- | --- | --- | --- |
| Date collected | 9-Aug-2019 | | | |
Financing
Learn more about financing options for this piece of equipment including:
John Deere Revolving Plan account
John Deere Multi-Use account
Installment financing options
Equipment leasing
10 Year Platinum Warranty Package