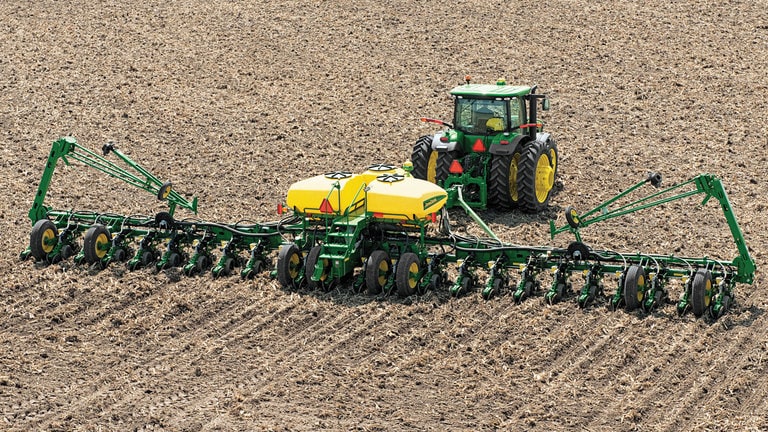 Variable Rate Application
John Deere Section Control
Reduce overlap and minimize skips ensuring precise placement of crop protectants and nutrients.

Features
Expand All
Collapse All
Section Control improves placement of agricultural inputs and reduces operator fatigue by automatically turning implement sections on and off. By reducing product application overlap, Section Control decreases the total amount of product used in the field, lowering the input costs for your operation. Additionally, an increase in yields can be seen as there is less competition amongst plants who may suffer in overlapped areas of the field where the seed population is too high.  Some crops can be easily harmed by excessive chemical or fertilizer applications that negatively impact the yield potential of the crop.

Section Control also reduces your stress level, as you no longer need to focus on manually turning the implement sections on and off. This helps reduce fatigue, enabling you to run longer hours when time is of the essence. Section Control puts your mind at ease as less experienced operators get behind the wheel knowing that your product will be placed where intended.

Section Control improves efficiency of producers by:
Reducing seed costs by an average savings of 4.3 percent (see reference below)
Optimizing yield by preventing double application of seed that studies suggest reduces inputs between 1 to 12 percent yield loss (see reference below)
Reducing operator fatigue, allowing for more operational hours in the field
For compatibility information, reference Generation 4 Display compatibility.
Get the best use of Section Control with performance tuning, which enables you to tune the planter mechanical delay on and off times so seed is placed at the intersection of two perpendicular passes. Correct skips and overlaps during entry and exit by setting the appropriate on/off time adjustments when entering distances and operating speed in the Section Control application. The application then makes the necessary changes to the system.
Once the system has been tuned, you can visualize the mechanical delay turn on/off times so that driving performance can be seen and better understood. For example, if there are acceleration changes when coming into or out of coverage, it can impact the look-ahead times to properly turn the seeder on or off, which can lead to more overlap or gaps in seed coverage. This additional visualization provides feedback to the operator on how the system is functioning and when the planter is turning on or off.
In addition to tuning, plant-to-row functionality enhances your field performance by allowing you to customize the in-line skip or overlap observed at the intersection of a perpendicular planting pass. Default Performance Tuning settings command the planters mechanical delay times to place seed at the intersection of the last outer headland row, but skip or overlap settings can be customized to meet the specific needs of your operation. For example, producers who want a 15.2-cm (6-in.) skip to allow the corn head snout to pass between rows would set a 15.2-cm (6-in.) skip within the Seed Placement Settings.
Section Control is also capable of preventing application of inputs outside of a field boundary, inside an interior field boundary, or outside of a headland boundary.
Enabling headlands allows operators to plant the headlands after the interior of the field has been planted.
Turning boundaries off provides operators with the flexibility to apply product outside of the field boundary while continuing to use the boundary for field totals, documentation, or field location.
An on/off shortcut key section status module allows you to quickly turn Section Control off for manual operation from any run page.
Place the section status module on any run page to monitor Section Control performance on any screen with different layout options.
Monitor individual section statuses with the diagnostics table, allowing you to understand if a section is on or why the section is commanded off.
Section Control turn on/off time visualization
Optimize driving patterns to reduce or eliminate operator-caused skips, gaps, or uneven performance across the width of a Section Control enabled tool. Operators cause variability in performance with changes in driving while Section Control commands the tool to transition between on/off. Speeding up, slowing down quickly, or changes in direction of travel result in undesired Section Control performance. Enabling the Section Control visualization within advanced settings allows operators to confidently make driving changes knowing the impact to their operation.
Overlap Control
When used in a combine or other harvesting equipment, Overlap Control automatically reduces the header width when harvesting over previous coverage. Reducing the width over previous coverage enables for more accurate area and yield information. In cases where crop has drowned out or is unable to be harvested, Overlap Control allows for sections or rows of the header to be manually be turned off.
Financing
Learn more about financing options for this piece of equipment including:
John Deere Revolving Plan account
John Deere Multi-Use account
Installment financing options
Equipment leasing
10 Year Platinum Warranty Package