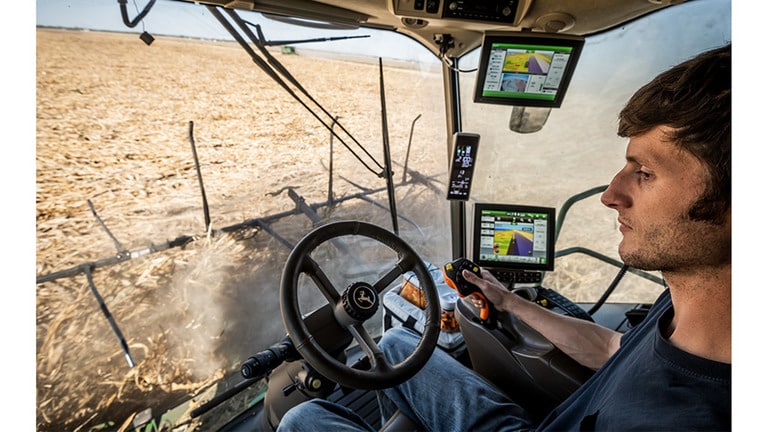 Guidance
AutoPath™
Use data from the first pass, either strip-till or planting, to automatically create full-field guidance lines for secondary passes such as planting, spraying, and harvest
Setup time for secondary operations is faster and crop damage is reduced as guidance is based on actual planted crop rows
Know which rows to start on, regardless of equipment width, even in down crops
Available as part of the Automation 4.0 Package
Features
Expand All
Collapse All
AutoTrac provides you with a hands-free guidance solution helping to manage in-field efficiency and greatly reducing operator fatigue. AutoTrac assisted steering guides the machine with accuracy in a variety of field conditions, bringing the following advantages to your operation:
Increase your profitability by reducing overlaps and skips, leading to savings in fuel, equipment wear, and time.
Maintain the optimal working speed for your operation, enhancing machine performance and allowing you to cover more acres in a day.
Protect emerging crops by creating more consistently spaced rows and reducing the potential for crop damage with subsequent passes through the field.
Reduce soil compaction by using tramline management more effectively.
Improve your productivity by taking your focus off accurately steering the machine and allowing yourself to remain more alert in the field.
Extend your time in the field as AutoTrac allows you to confidently create evenly spaced rows past sunset and in rain, dust, or fog.
Various tracking options are available with the Generation 4 AutoTrac™ guidance system, allowing you to adjust your guidance lines accordingly as you maneuver throughout different field patterns. Swap track provides you with the ability to quickly switch guidance tracks as you work through a field's varying geographic conditions. Gen 4 AutoTrac offers the following guidance line types:
Straight tracks
When working in a field that allows for straight guidance lines, you are able to create an initial straight line. Once the track has been defined, all subsequent track lines in the field are created parallel to each other at the defined track spacing distance.
Curve tracks
When working on terrain that does not allow for straight lines to be used, such as rolling hills or contours, curve track mode enables you to follow the curvature of your guidance lines. AutoTrac provides you with the following curve types:

Adaptive curves allow you to record a manually driven curved path
A/B curves allow you to drive a curved line in the field with two end points
Circle tracks
Designed for fields with a center pivot, the Gen 4 AutoTrac activation allows you to create concentric circle guidance lines by either driving the circle or by entering latitude and longitude coordinates.
Boundary fill tracks
By creating a guidance line that is ½ track spacing inward from the exterior boundary of the field, you are provided with a quick and easy way to get started with the initial passes around the field. This allows you to create guidance lines along fence lines and exterior boundaries inward until a regular guidance line is selected for use throughout the rest of the field.

NOTE: This tracking method is intended for use with exterior passes and not as a one-line solution for the entire field. It requires a boundary used for creation to be present in the display for the boundary fill pattern to be used. If the boundary is deleted, the guidance line will be deleted as well unless selected as current track.
Gen 4 AutoTrac™ leverages the simple, modern interface offered with the Gen 4 family of displays. The following features allow both you and your machines to be more productive with AutoTrac on the Gen 4 displays:
Set an A/B line without losing visibility to the guidance map.
Name and edit guidance lines.
Select straight track or curve track by toggling between two tabs.
Tracking options include a picture to illustrate the difference between each tracking mode.
Swap track allows you to quickly switch between tracks.
Utilize improved curve track interfaces.
A/B lines extensions can be turned off.
Add a Quick Line softkey to the shortcut bar using the Layout Manager.
Machine access patterns allow you to insert field roads between crop passes.
Create guidance lines from boundaries.
On-screen help is available at any time to keep you informed.
Warnings and diagnostics lead you to quick solutions.
Financing
Learn more about financing options for this piece of equipment including:
John Deere Revolving Plan account
John Deere Multi-Use account
Installment financing options
Equipment leasing
10 Year Platinum Warranty Package