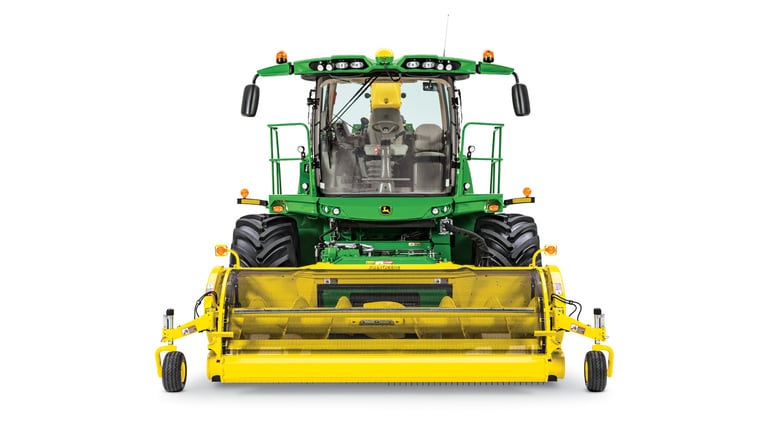 Self-Propelled Forage Harvesters
9600 Self-Propelled Forage Harvester
616 hp John Deere PowerTech™ PSX engine
Driveline designed to deliver optimal crop flow when the engine is operating in its efficiency sweet spot
The ProStream crop flow designed with extra heavy-duty components for high horsepower and more throughput than ever before

Specs & Compare
Specs & Compare

John Deere

9600

Self-Propelled Forage Harvester
Key Specs
Maximum power at 1800 rpm
460 kW
625 PS / 616 hp
Engine
Type
PowerTech™ PSS 13.5L
Exhaust emission regulation compliancy - Final Tier 4 / Stage V
Displacement
13.5 L
823.8 cu in.
Model
Europe: 6135HZ021
North America: 6135HZ022
Cylinders
Inline 6

Fuel system
Unit injectors plus four valves
Fuel tank capacity
1,100 L
290.6 U.S. gal.
DEF tank capacity ( for FT4 or EU Stage V emission level)
43 L
11.4 U.S. gal.
Hand wash tank capacity
Engine power
Maximum power at 1800 rpm
460 kW
625 PS / 616 hp
Maximum power at 1900 rpm
Rated power at 2100 rpm
428 kW
582 PS / 574 hp
Fuel tank capacity
1100 L
290.6 U.S. gal.
DEF tank capacity ( for FT4 or EU Stage V emission level)
43 L
11.4 U.S. gal.
Engine
Manufacturer
John Deere
Type
PowerTech™ PSS 13.5L
Exhaust emission regulation compliancy - Final Tier 4 / Stage V
Model
Europe: 6135HZ021
North America: 6135HZ022
Displacement
13.5 L
823.8 cu in.
Cylinders
In line 6
Speed on road
Fuel system
Unit injectors plus four valves
Engine/ground speed management
Cooling system
Cooling system capacity
113 L
29.85 U.S. gal.
Cooling fan drive
Direct
Driveline
Ground drive
Prodrive, autoshift transmission, differential lock (automatic and manual), automatic wet brake system
Engine rpm on road: 1400-2100 rpm
Hydraulics
Load sensing
Crop harvesting unit
Harvest channel wide
Crop flow components
Low-friction crop-flow concept
Main clutch
Dry clutch
Number of discs
One disc
Main driveband
Reinforced with Kevlar inserts
Belt tensioning
Active, hydraulic pressure
Main driveband, polybelt belts
Six ribs
Header drive
Type
Heavy-duty gearbox (i=3.75)
Pump/motor displacement: 65cc/63cc
Electrical system/Electrical and hydraulic system
Type/voltage
12 V
Batteries/battery quantity/capacity
2 x 174 amp-hr
Alternator
200 amp
Hydraulic system capacity
50 L
13.2 U.S. gal.
Ground drive
Type
Prodrive, autoshift transmission, differential lock (automatic and manual), automatic wet brake system
Engine rpm on road: 1400-2100 rpm
Differential lock
Manual and automatic
Maximum transport speed
Hydrostatic transmission: 25 / 30 km/h
15.5 / 18.6 mph
ProDrive transmission: 20 / 25 / 30 / 40 km/h
12.4 / 15.5 / 18.6 / 24.9 mph
Rear axle type
Hydro-mechanical 4WD
Automatic wet brake system
Available with ProDrive transmission
Engine rpm - Management
Standard
Cab
Tilt and extend steering column
Standard
Air conditioning and heater
Standard - ClimaTrak
Cool box
Optional
Trainee seat
Standard
Hectare counter
Standard
Operator information system
Cornerpost display
CAN-BUS electronics
Standard
Operator's seat
Air-suspension seat optional
Side window wiper
Rear and side window wiper optional
Parallel-type windscreen wiper
Electric adjust and heated
Optional on rear view mirrors
Rear view mirrors
Standard
Hand wash tank capacity
Machine management solutions
Yield monitoring
Harvest Monitor™ optional
Documentation
Harvest Doc™ optional
Crop analysis
HarvestLab™ optional
Length-of-cut control based on crop parameter
Infinitely variable length-of-cut (IVLOC™) standard
AutoLOC™ optional - use with HarvestLab
Satellite (GPS) assisted steering
AutoTrac™ optional
Crop-harvesting units
Header height control
Advanced header control (AHC) optional
Grass pick-ups (transport width)
3.0, 4.0, 4.5 m
9.8, 13.1, 14.8 ft
Maize or corn headers
Driveline
Header connection
Feeding system/Feedrolls
Feed roll frame opening
Swing away, 37-45 degree (angle)
Number
Four
Metal detector
Standard
Stone detector is optional
Width, front
830 mm
32.7 in.
Standard feed roll drive
Hydro feedroll drive IVLOC standard
Infinitely header drive speed standard
Optional feed roll drive
Hydro feedroll drive IVLOC
Cutterhead
Type
Dura-Drum™ cutterhead
Cutterhead housing width
Knife drum width
850 mm
33.5 in.
Knife drum diameter
670 mm
26.4 in.
Speed at rated engine speed
Standard - 1100 rpm
Optional - 1200 rpm
Knife types available (crop)
Straight - grass
Curved - corn
Number of knives
Shear bar, reversible
Shear bar adjust
Knife sharpening system
| | | | | |
| --- | --- | --- | --- | --- |
| Reverse rotation | Yes | | | |
| Automatic from cab | Yes, remote from cab | | | |
| Reverse drive | Standard | | | |
| Reverse speed | | | | |
| Sharpening modes | | | | |
Kernel processor
| | | | | |
| --- | --- | --- | --- | --- |
| Type | John Deere Premium KP, John Deere XStream KP | | | |
| Quick-change | Quick kernel processor - swing in/swing out | | | |
| Quick KP removal | Optional crane with remote-controlled electric hoist | | | |
John Deere Premium KP
Housing
Lubrication
Roll diameter
240 mm
9.45 in.
Speed differential / Roll speed (lower)
Maize, roll teeth number (speed differential)
118 (32 or 40 percent)
Wholecrop, roll teeth number (speed differential)
178 (32 or 40 percent)
Sorghum, roll teeth number (speed differential)
238 (32 percent)
Weight
163.3 kg
360 lb
Available KP rolls
John Deere XStream KP
Housing
Lubrication
Roll diameter
250 mm
9.8 in.
Speed differential / Roll speed (lower)
Bearing temperature monitoring system
Maize, roll teeth number (speed differential)
110/145 (50 percent)
Wholecrop, roll teeth number (speed differential)
145/165 (50 percent)
Sorghum, roll teeth number (speed differential)
238 (32 percent)
Weight
Available KP rolls
Serrated roller (kernel processor)
| | | | | |
| --- | --- | --- | --- | --- |
| Maize, roll teeth number (speed differential) | | | | |
| Wholecrop, roll teeth number (speed differential) | | | | |
| Sorghum, roll teeth number (speed differential) | | | | |
| Weight | | | | |
Disk type (kernel processor)
| | | | | |
| --- | --- | --- | --- | --- |
| Number of disks (top/bottom) | | | | |
| Diameter of disks | | | | |
| Weight | | | | |
Blower/Crop accelerator
Rotor diameter/housing width
560 / 620 mm
22.86 / 24.41 in.
Number of blades
10
Speed (option)
1800 rpm
Spout
Rotation, degrees
210 degree (angle)
Hydraulic height position
Hydraulic raise and lower standard
Automatic spout positioning optional
Double-cap deflection
Standard
Number of wear liners
Reach from center line (Optional)
6 or 8 row: 4.73 m
15.5 ft
10 row: 5.87 m
19.3 ft
12 row: 6.71 m
22 ft
Maintenance
Rotary radiator screen cleaner
Standard
Automatic lubrication system
AutoLube optional
Engine oil and filter change duration
JD+50™ II oil: 350 hours
Other oil: 250 hours
Vehicle
With front tires
710/70R42
With rear tires
620/60R30
Transport length (without header)
6.6 m
21.7 ft
Transport width (without header)
3.1-3.7 m
10.2-12.1 ft
Transport height (to cab roof)
3.89 m
12.75 ft
Working height (maximum)
Height to spout: 6.60 m
21.65 ft
Approximate weight (without header)
Propelling drive
| | | | | |
| --- | --- | --- | --- | --- |
| Standard | Hydrostatic, 3-speed - manual shift with helical gears | | | |
Transmission
Type
Standard: Hydrostatic, 3-speed - manual shift with helical gears
Hydro-mechanical rear axle optional
Financing
Learn more about financing options for this piece of equipment including:
John Deere Revolving Plan account
John Deere Multi-Use account
Installment financing options
Equipment leasing
10 Year Platinum Warranty Package