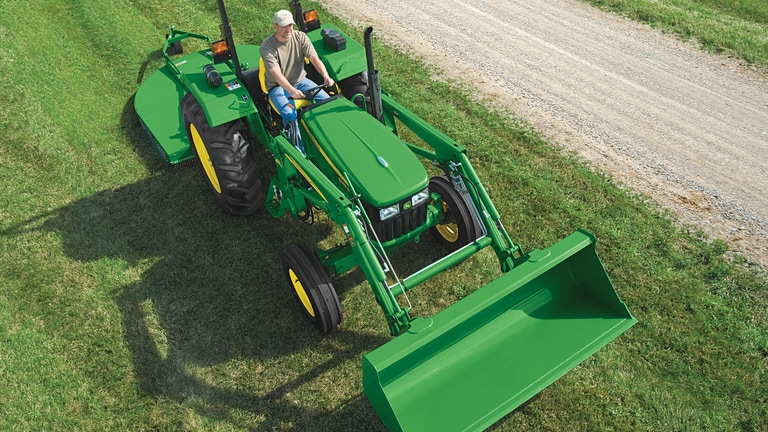 Front End Loaders For Tractors
512 Loader
Parking stands and couplers
Hydraulic hose and fittings
Quick-change attachment carrier
Nitro-carbonized (nitrite or black) cylinder rods
Features
Expand All
Collapse All
For parking the 512 Loader.
To see instructions on how to park the loader using the stands, go to parking stand section.
The John Deere quick-change attachment carrier allows one person to quickly change attachments without the use of tools.
Step 1
With the bucket level or slightly rolled back, simply remove the retaining pins and place in storage position.
Step 2
Roll the attachment forward to disengage the lower pins.
Step 3
Lower the attachment to the ground to disengage the top hooks.
Step 4
Back away.
To install another attachment simply reverse these steps.
Specifications
Specifications

Select up to 4 models to compare specifications

John Deere

512

Loader
Key Specs
Maximum lift height (A)
2850 mm
112 in.
Lift capacity at full height
Measured at pivot (U)
1000 kg
2200 lb

Boom breakout force
Measured at pivot (Y)
2019 kg
4451 lb

Bucket rollback force capacity
At ground-level line (ZZ)
1410 kgf
3109 lbf

Clearance at full height - bucket dumped (C)
2140 mm
84 in.
Dump angle, degrees (E)
43 degree (angle)
Rollback angle, degrees (G)
30 degree (angle)
Tractor
| | | | | |
| --- | --- | --- | --- | --- |
| Model | 5E Series 2WD Tractor | | | |
| Front tire | 7.5-16 6 PR R1 | | | |
| Rear tire | 13.6-28 6 PR R1 | | | |
| Front axle configuration | | | | |
| Wheelbase | | | | |
| Pump capacity | 11.4 gpm | | | |
| Rated pressure | 2828 psi | | | |
Loader
Base weight
280.53 kg
618.46 lb
Leveling configuration
Bucket used
1850 mm
73 in.
Bucket weight
159 kg
351 lb
Lift capacity at full height
Measured at pivot (U)
1000 kg
2200 lb
Measured at 800 mm ahead of pivot (V)
682 kg
1500 lb

Lift capacity at 59 in. (1500 mm)
Measured at pivot (W)
1380 kg
3043 lb
Measured at 800 mm ahead of pivot (X)
980 kg
2161 lb

Boom breakout force
Measured at pivot (Y)
2019 kg
4451 lb
Measured at 800 mm ahead of pivot (Z)
1335 kg
2944 lb

Bucket rollback force capacity
At maximum height (VV)
979 kgf
2158 lbf
At ground-level line (ZZ)
1410 kgf
3109 lbf

Dimensions
Maximum lift height (A)
2850 mm
112 in.
At full height - bucket level(B)
2605 mm
102.5 in.
At full height - bucket dumped (C)
2140 mm
84 in.

Overall length (I+F), ft (m)
3.79 m
12.416 ft
Overall height in carry position (J)
1.442 m
4.75 ft
Digging depth (H)
180 mm
7 in.
Reach
At maximum height (D)
615 mm
24 in.
At ground level - bucket level (F)
1730 mm
68 in.

Bucket angle
Dump angle, degrees (E)
43 degree (angle)
Rollback angle, degrees (G)
30 degree (angle)

Cycle times



Financing
Learn more about financing options for this piece of equipment including:
John Deere Revolving Plan account
John Deere Multi-Use account
Installment financing options
Equipment leasing
10 Year Platinum Warranty Package