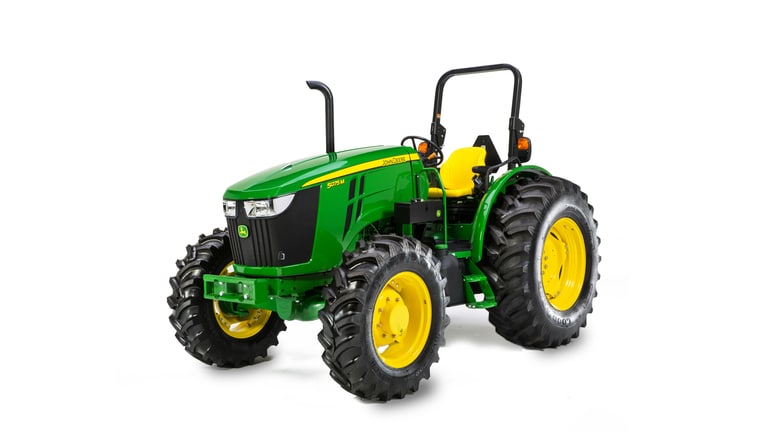 5 Series Utility Tractors
5075M Utility Tractor
John Deere PowerTech Diesel Engine
Final tier 4 compliant engine technology
Choose from 16F/16R, and 32F/16R transmission options
Choose climate-controlled cab, open station
Features
Expand All
Collapse All
A heavy tractor means more down force to keep implements in the ground. More weight also leads to improved traction and performance in the field. Because the 5M is made with heavy and durable cast steel, it weighs enough to power through those tough jobs.
The compactness of the 5M Series regarding wheelbase, weight, and total height tractor makes this tractor suited for a variety of different applications and is the perfect choice for all types of farms.
A heavy tractor also means better stability when performing loader work. Transport full bucket loads faster and lift bales higher with a stronger and more stable base.
| | | | | |
| --- | --- | --- | --- | --- |
| Model | 5090M | 5100M | 5115M | 5125M |
| MFWD cab | 3950 kg (8700 lb) | 4040 kg (8900 lb) | 4040 kg (8900 lb) | 4175 kg (9185 lb) |
Overview
A Category 2, 3-point hitch on 5M Tractors provides the lift capacity and compatibility to perform in a variety of different applications. The 3-point hitch adapts to a wide variety of implements and has plenty of lift capacity to handle heavy implements such as planters, sprayers, and field cultivators.
Benefits
With the choice of either mechanical or electrohydraulic hitch controls, hooking up implements is convenient with telescoping draft links, adjustable sway bars, and interchangeable hitch balls.
Both mechanical and electrohydraulic hitch controls have a depth stop for consistency when lowering the hitch. Each time the position control lever is pushed forward, it stops where the depth stop has been positioned.
Optional larger cylinders are available for increased lift capacity:

PowrReveser™ transmission models: 65-mm (2.5-in.) cylinders in base with electrohydraulic hitch lift capacity of 2340 kg (5159 lb); option of one 65-mm (2.5-in.) and one 75-mm (2.9-in.) lift cylinder (averaging to 70 mm [2.7 in.]) which provides electrohydraulic hitch lift capacity of 2701 kg (5955 lb)
PowrQuad™ and Pow8 transmission models: 75-mm (2.9-in.) cylinders in base with hitch lift capacity of 3164 kg (6975 lb); option of 80-mm (3.15-in.) cylinders with hitch lift capacity of 3569 kg (7868 lb)
Additional details
Adjustable sway bars and telescoping draft links can be easily adjusted to adapt to a wide variety of implements. The right lift link also adjusts without tools for added convenience when leveling implements.
Operators do not need to carry a tool to adjust the rear hitch. Operators can also raise and lower the 3-point hitch from outside of the tractor with the conveniently located rear fender hitch controls.
An updated three-point quick hitch is offered on the 5M Tractors.
This updated design is a break from the existing welded quick hitch as the frame is cast.
The curved design eliminates the potential for contact with the rear fender and extensions.
This feature is available from the factory.
Specs & Compare
Specs & Compare

Select up to 4 models to compare specifications

John Deere

5075M

Utility Tractor
Key Specs
Engine description
John Deere Deere PowerTech™ 3029
Engine displacement
3 cylinder: 2.9 L
179 cu in.
Rated engine power
At 2200 rpm per ISO 97/68/EC: 55.1 kW
73.8 hp
Maximum engine power
Rated PTO power (hp SAE)
At 2100 rpm per SAE: 43 kW
57.7 PTO hp
Maximum PTO power
Transmission type
Standard: 16F/16R PowrReverser™
Optional: 12F/4R SyncShuttle™ Plus
32F/16R PowrReverser Plus
Hydraulic pump rated output
Standard: 94 L/min
24.7 gpm
Rear hitch category (SAE designation)
Category 2; convertible to 1
Base machine weight
Engine specifications
Description
John Deere PowerTech 3029
Engine type
Engine family
LJDXL02.9318
Rated speed
Aspiration
Turbocharged and air-to-air aftercooled
Cylinders liners
Wet sleeved
Emission level
Final Tier 4
After treatment type
Displacement
3 cylinder: 2.9 L
179 cu in.
Engine performance
Rated power
At 2200 rpm per ISO 97/68/EC: 55.1 kW
73.8 hp
Rated PTO power (hp SAE)
At 2100 rpm per SAE: 43 kW
57.7 PTO hp
Maximum PTO power
Intelligent Power Management (IPM)
Power boost
Maximum engine power
Engine peak torque
Drawbar power
PTO torque rise
At 1400 rpm: 27.2 percent
Fuel injection system and control
Air cleaner type
Transmission
Type
Standard: 16F/16R PowrReverser
Optional: 12F/4R SyncShuttle Plus
32F/16R PowrReverser Plus
Reverser
Left hand, mechanical
Clutch; wet/dry
Wet
Creeper
32F/16R PowrReverser
Hydraulic system
Type
Open center
Pump rated output
Standard: 94 L/min
24.7 gpm
Available flow at a single rear SCV
70 L/min
18.4 gpm
Available flow at front SCVs
Number of rear selective control valves (SCVs)
Two, up to three total
Number of mid selective control valves (SCVs)
Two, up to three total
Number of front selective control valves (SCVs)
Joystick SCV control
Standard
Auxiliary hydraulic features
SCV control
Rear hitch
Hitch draft control load sense type
Mechanical or electrohydraulic
Remote control valves available
Standard: two
Optional: three
Hitch category (SAE designation)
Category 2; convertible to 1
Maximum lift capacity behind lift points
Standard: 2578 kg
5685 lb
Optional: 2993 kg
5954 lb
Lift capacity at standard frame
Sensing type
Lower link
Rear axle differential lock
Electrohydraulic
Drawbar
| | | | | |
| --- | --- | --- | --- | --- |
| Drawbar category | | | | |
| Maximum vertical load | | | | |
Rear power take-off (PTO)
Type
Standard: Independent 540/540 Economy
Optional: 540/540E/1000
Engine rpm (at rated PTO speeds)
540 at 2100 rpm
540E at 1645 rpm
Economy PTO speeds
Reverse PTO speeds
Multispeed PTO option availability
Ground speed PTO option availability
PTO actuation
Electrohydraulic
Front hitch
Category
Category 2
Electric power
Standard lift capacity
1931 kg
4257 lb
Front power take-off (PTO)
PTO speed
Rear axle
| | | | | |
| --- | --- | --- | --- | --- |
| Type | | | | |
| Final drive type | Inboard planetary | | | |
| Differential controls | Electrohydraulic | | | |
| Axle type | Flanged | | | |
| Brakes, type and control | Hydraulic wet disc | | | |
| Rear differential lock | | | | |
| Load rating | | | | |
Front axle
| | | | | |
| --- | --- | --- | --- | --- |
| Type | | | | |
| Front axle differential lock | | | | |
| Load rating | | | | |
Tires
Front
2WD: 11LL-15 8PR F2 Firestone®
MFWD: 320/85R24 (12.4R24) R1W Radial Firestone
Rear
2WD: 460/85R30 (18.4R30) R1W Firestone
MFWD: 460/85R30 (18.4R30) R1W Firestone
Wheel tread range
2WD: front: 1520-2020 mm
59.8-79.5 in.
rear: 1349-2055 mm
53.1-80.9 in.
MFWD: front: 1299-1997 mm
51.1-78.6 in.
Turning radius with brakes
2WD: 3.67 m
12.04 ft
MFWD: 3.85 m
12.6 ft
Turning radius without brakes
2WD: 3.85 m
12.6 ft
MFWD: 4.0 m
13.1 ft
Central Tire Inflation System (CTIS)
Tracks
| | | | | |
| --- | --- | --- | --- | --- |
| Tread spacing | | | | |
| Drive type | | | | |
| Track width | | | | |
| Midrollers | | | | |
Brakes
| | | | | |
| --- | --- | --- | --- | --- |
| Primary brake (foot brake) | | | | |
| Secondary brake | | | | |
| Park lock | | | | |
| MFWD braking | | | | |
| Front axle brakes | | | | |
| Auxiliary brakes | | | | |
| Hydraulic trailer brakes | | | | |
| Pneumatic trailer brakes | | | | |
Electrical system
| | | | | |
| --- | --- | --- | --- | --- |
| Alternator size | | | | |
| Battery options | | | | |
| Working lights | | | | |
| Type of bulb in headlight (Halogen, Zenon, LED) | | | | |
| Type of bulb in beacon (Halogen, Zenon, LED) | | | | |
| dB(A) rating for backup alarm | | | | |
| Total cold cranking amps | | | | |
Operator station
Rollover protective structure, OOS
Rigid - foldable - telescopic
Foldable, two-post
Platform - flat/straddle
Flat
Gearshift location - console/floor
Floor

Seat
Standard: Mechanical suspension
Optional: air ride
Cab suspension
Instructional seat
Optional
Display
Radio
Optional
Inner cab volume
dB(A) rating
78 dBA
Cab glass area
Safety glass rating
Front visibility
Dimensions
Wheelbase
2WD and MFWD: 2350 mm
92.5 in.
Overall width
Overall length
Overall height
Drawbar clearance
Front axle center
Approximate shipping weight, Open;Cab
2WD: Open: 3700 kg
8140 lb
Cab: 3900 kg
8580 lb
MFWD: Open: 3975 kg
8765 lb
Cab: 4175 kg
9185 lb
Weight
| | | | | |
| --- | --- | --- | --- | --- |
| Base machine weight | | | | |
| Maximum ballast level | | | | |
| Maximum permissible weight | | | | |
Capacities
Crankcase oil volume
Fuel tank
Standard: Open: 111.9 L
29.6 U.S. gal.
Cab: 139.1 L
36.7 U.S. gal.
Optional: open: 141.2 L
37.3 U.S. gal.
Cab: 170.3 L
45 U.S. gal.
Diesel exhaust fluid (DEF) tank
Cooling system
Transmission-hydraulic system
Serviceability
| | | | | |
| --- | --- | --- | --- | --- |
| Interval for engine oil change | | | | |
| Interval for hydraulic/transmission oil change | | | | |
| Interval for engine coolant change | | | | |
Loaders
| | | | | |
| --- | --- | --- | --- | --- |
| Loader | | | | |
| Lift capacity at full height | | | | |
| Maximum lift height | | | | |
| Leveling type | | | | |
Precision AG
| | | | | |
| --- | --- | --- | --- | --- |
| Guidance | | | | |
| Telematic | | | | |
| Remote diagnostics | | | | |
Miscellaneous
| | | | | |
| --- | --- | --- | --- | --- |
| AutoTrac ready | | | | |
| ISOBUS ready | | | | |
| CommandCenter video inputs | | | | |
| Immobilizer | | | | |
| Side slope rating | | | | |
| Uphill/downhill slope rating | | | | |
| Country of manufacture | Augusta, GA | | | |
Financing
Learn more about financing options for this piece of equipment including:
John Deere Revolving Plan account
John Deere Multi-Use account
Installment financing options
Equipment leasing
10 Year Platinum Warranty Package