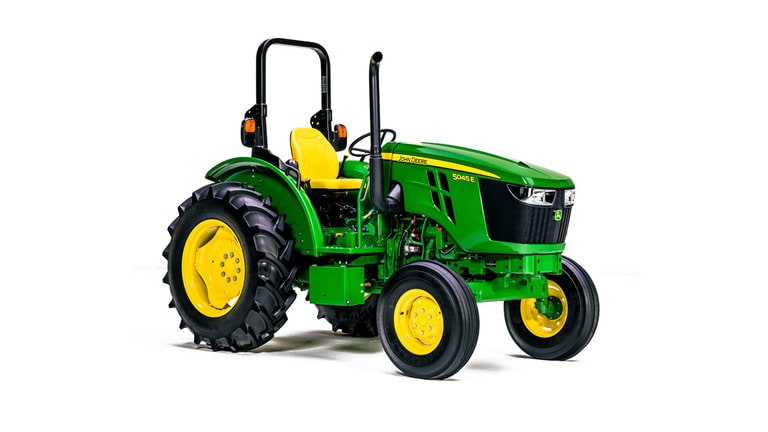 5 Series Utility Tractors
5045E Utility Tractor
50 engine hp
Best-in-class visibility
Thick comfortable seat
5-Year Powertrain Warranty
Features
Expand All
Collapse All
Adding ease to operation
Operator comfort is important regardless of the application. Improving the 5E 3-Cylinder Tractor models, the hand throttle has been relocated to the right-hand console. This is 30.5 cm (12-in.) closer to the operator and within easy reach versus the previous location on the center-hand console. Operators may also notice the additional legroom provided by the repositioned loader controls, providing a more enjoyable experience.
Nine forward and three reverse speeds with in-line synchronized shuttle shifting
The SyncShuttle transmission is designed to match the excellent power and torque characteristics of the John Deere PowerTech™ engines. Transmission durability is enhanced with the pressure-lubricated top shaft, allowing an operator to achieve performance from one working season to the next. Additionally, this in-base transmission is configured with fixed draft links, single-speed power take-off (PTO) and mechanical PTO engagement.
The transmission is characterized as full top shaft synchronized (TSS) when forward shifting on-the-go between speeds, and is characterized a synchronized while depressing the clutch.
2100 engine rpm
16.9-28
Tire
0.671 RR
Gear
Rear Wheel Speed
Ground Speed
rpm
kmph
A1
9.1
2.3
A2
12.4
3.1
A3
17.0
4.3
A Rev
-13.5
-3.4
B1
23.1
5.8
B2
31.4
7.9
B3
43.2
10.9
B Rev
-34.2
-8.6
C1
58.9
14.9
C2
80.3
20.3
C3
110.3
27.9
C Rev
-87.3
-22.1
Creeper available for R2 and R4 as field installed kit with following speeds in kmph.
| | |
| --- | --- |
| Creeper 1 | 0.40 |
| Creeper 2 | 0.54 |
| Creeper 3 | 0.75 |
| Creeper Rev | -0.59 |
Easy and comfortable shifting
Nine forward and three reverse (9F/3R) speeds are achieved by using two platform-mounted levers for shift operation. The gear lever at the operator's right hand selects one of three forward gears and one reverse gear, as well as the integrated park position. The range lever at the operator's left hand selects collar-shift A, B, and C ranges.

Operators can easily switch directions without having to completely stop the tractor with synchronized, in-line, shuttle-shift capability between forward and reverse gears on the gear-shift lever in all three ranges (A, B, and C ranges).

A neutral start switch requires the gear-shift lever be in the neutral or park positions to start the engine.

A positive park pawl on the transmission provides positive park and eliminates the need for a hand brake. This also eliminates clutch service costs that occur when the park brake is accidentally left engaged.
Specs & Compare
Specs & Compare

John Deere

5045E

Utility Tractor
Key Specs
Engine description
John Deere PowerTech 3029
Engine displacement
3 cylinders: 2.9 L
179 cu in.
Rated engine power
At 2100 rpm: 37.4 kW
50 hp
Rated PTO power (hp SAE)
At 2100 rpm: 27.6 kW (37 PTO)
Maximum PTO power
@ 1800 RPM
Open Station: 28.5kw (38hp)
Transmission type
Standard: 9F/3R SyncShuttle
Hydraulic pump rated output
Standard: 66.1 L/min
17.5 gpm
Rear hitch category (SAE designation)
Category 2; convertible to 1
Base machine weight
Maximum engine power
Engine specifications
Description
John Deere PowerTech 3029
Engine type
Engine family
Rated speed
Aspiration
Turbocharged
Cylinders liners
Wet sleeved
Emission level
After treatment type
Displacement
3 cylinders: 2.9 L
179 cu in.
Engine performance
Rated power
At 2100 rpm: 37.4 kW
50 hp
Rated PTO power (hp SAE)
At 2100 rpm: 27.6 kW (37 PTO)
Maximum PTO power
@ 1800 RPM:
Open Station - 28.5kw (38hp)
Power boost
Engine peak torque
PTO torque rise
Intelligent Power Management (available in transport and/or mobile PTO applications)
Maximum engine power
Transmission
| | | | | |
| --- | --- | --- | --- | --- |
| Type | Standard: 9F/3R SyncShuttle | | | |
| Reverser | No | | | |
| Clutch; wet/dry | Dry | | | |
| Creeper | | | | |
Hydraulic system
Type
Open Center
Pump rated output
Standard: 66.1 L/min
17.5 gpm
Available flow at a single rear SCV
43.4 L/min
11.5 gpm
Available flow at front SCVs
Number of rear selective control valves (SCVs)
standard: 1
Optional: 2
Number of mid selective control valves (SCVs)
Standard: 0
Optional: 2
Number of front selective control valves (SCVs)
Joystick SCV control
2WD: FIK
MFWD: Standard
SCV control
Rear hitch
Hitch draft control load sense type
Mechanical
Remote control valves available
Standard: 1
Optional: 2
Hitch category (SAE designation)
Category 2; convertible to 1
Maximum lift capacity behind lift points
OECD hitch lift cap at 24 behind: 3192 lb
1448 kg
Sensing type
Top link
Rear axle differential lock
Lift capacity at standard frame
Drawbar
| | | | | |
| --- | --- | --- | --- | --- |
| Drawbar category | | | | |
| Maximum vertical load | | | | |
Rear power take-off (PTO)
| | | | | |
| --- | --- | --- | --- | --- |
| Type | Standard: Independent 540 | | | |
| Engine rpm (at rated PTO speeds) | 540 at 2100 rpm | | | |
| PTO actuation | Mechanical (lever) | | | |
| Ground speed PTO option availability | | | | |
| Multispeed PTO option availability | | | | |
Front hitch
| | | | | |
| --- | --- | --- | --- | --- |
| Category | | | | |
| Electric power | | | | |
| Standard lift capacity | | | | |
| Front power take-off (PTO) | | | | |
| PTO speed | | | | |
Rear axle
| | | | | |
| --- | --- | --- | --- | --- |
| Type | | | | |
| Final drive type | Planetary | | | |
| Differential controls | Mechanical (pedal) | | | |
| Axle type | Flanged | | | |
| Brakes, type and control | Hydraulic wet disc | | | |
| Rear differential lock | | | | |
| Load rating | | | | |
Front axle
| | | | | |
| --- | --- | --- | --- | --- |
| Type | | | | |
| Front axle differential lock | | | | |
| Load rating | | | | |
Tires
Front
2WD: 7.5-16 R1
MFWD: 9.5-24 R1
Rear
2WD: 13.6-28 R1
MFWD: 13.6-28 R1
Wheel tread range
Turning radius with brakes
2WD: 3.1 m
10.2 ft
MFWD: 3.94 m
12.9 ft
Turning radius without brakes
2WD: 3.5 m
11.5 ft
MFWD: 4.65 m
15.3 ft
Electrical system
| | | | | |
| --- | --- | --- | --- | --- |
| Alternator size | | | | |
| Battery options | | | | |
| Total cold cranking amps | | | | |
| Type of bulb in beacon (Halogen, Zenon, LED) | | | | |
| Type of bulb in headlight (Halogen, Zenon, LED) | | | | |
| Working lights | | | | |
| dB(A) rating for backup alarm | | | | |
Operator station
Rollover protective structure, OOS
Rigid - foldable - telescopic
Foldable, 2-post
Platform - flat/straddle
Straddle
Gearshift location - console/floor
Floor, on the side

Seat
Mechanical
Cab suspension
Instructional seat
Display
Radio
Inner cab volume
dB(A) rating
Cab glass area
Front visibility
Safety glass rating
Dimensions
Wheelbase
2WD and MFWD: 2050 mm
80.7 in.
Overall length
3639 mm
143.3 in.
Drawbar clearance
Front axle center
Approximate shipping weight, Open;Cab
MFWD: 2525 kg
5566 lb
Overall height
Weight
| | | | | |
| --- | --- | --- | --- | --- |
| Base machine weight | | | | |
| Maximum ballast level | | | | |
| Maximum permissible weight | | | | |
Capacities
Crankcase oil volume
Fuel tank
Standard: 72.5 L
19 U.S. gal.
Diesel exhaust fluid (DEF) tank
Cooling system
Transmission-hydraulic system
Serviceability
| | | | | |
| --- | --- | --- | --- | --- |
| Interval for engine oil change | | | | |
| Interval for hydraulic/transmission oil change | | | | |
| Interval for engine coolant change | | | | |
Loaders
| | | | | |
| --- | --- | --- | --- | --- |
| Loader | | | | |
| Lift capacity at full height | | | | |
| Maximum lift height | | | | |
Precision AG
| | | | | |
| --- | --- | --- | --- | --- |
| Guidance | | | | |
| Telematic | | | | |
| Remote diagnostics | | | | |
Miscellaneous
| | | | | |
| --- | --- | --- | --- | --- |
| Country of manufacture | Sub assembly in Pune, India, Final assembly in Augusta, GA | | | |
| Side slope rating | | | | |
| Uphill/downhill slope rating | | | | |
Tracks
| | | | | |
| --- | --- | --- | --- | --- |
| Drive type | | | | |
| Midrollers | | | | |
| Track width | | | | |
| Tread spacing | | | | |
Financing
Learn more about financing options for this piece of equipment including:
John Deere Revolving Plan account
John Deere Multi-Use account
Installment financing options
Equipment leasing
10 Year Platinum Warranty Package