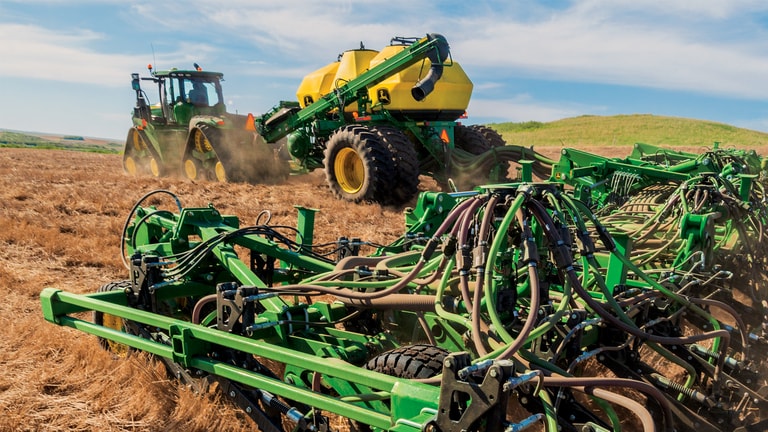 Seeding Equipment
1870 Air Hoe Drill
Depth control
Avoid overlaps and skips
Connecting hydraulics to the tractor
Blockage warning systems can save skips in field
Specs & Compare
Specs & Compare

Select up to 4 models to compare specifications

John Deere

1870

Air Hoe Drill
Key Specs
Spacing and width #1
Shank spacing: 30.5 cm
12 in.
Row spacing: 30.5-cm side band or 23-cm and 7.6-cm paired row
12-in. side band or 9-in. and 3-in. paired row
Spacing and width #2
Shank spacing: 30.5 cm
12 in.
Row spacing: 30.5-cm side band or 23-cm and 7.6-cm paired row
12-in. side band or 9-in. and 3-in. paired row
Spacing and width #3
Shank spacing: 30.5 cm
12 in.
Row spacing: 30.5-cm side band or 23-cm and 7.6-cm paired row
12-in. side band or 9-in. and 3-in. paired row
Spacing and width #4
Spacing and width #5
Spacing and width #6
Spacing and width #7
Spacing and width #8
Spacing and width #9
Spacing and width #10
Dimensions
Road clearance with sweep
27 cm
10.6 in.
Transport width
3-section model: 5.7 m
18.7 ft
5-section model: 5.79, 6.88 m
19, 22.6 ft
Nominal mainframe width (between wing-fold pivots)
5.65 m
18.5 ft
Number of seed openers
40, 56, 76
Spacing and width #1
Working width
12.2 m
40 ft
Transport height without harrow
3-section model: 5.4 m
17.6 ft

Weight
With typical options: 9,535 kg
21,020 lb
Shank spacing - 30.5 cm
12 in.
Row spacing: 30.5-cm side band or 23-cm and 7.6-cm paired row
12-in. side band or 9-in. and 3-in. paired row
Spacing and width #2
Working width
17.1 m
56 ft
Transport height without harrow
4.8 m
15.8 ft

Weight
13600 kg
30,000 lb
Shank spacing: 30.5 cm
12 in.
Row spacing: 30.5-cm side band or 23-cm and 7.6-cm paired row
12-in. side band or 9-in. and 3-in. paired row
Spacing and width #3
Working width
23.2 m
76 ft
Transport height without harrow
5.5 m
18 ft

Weight
With typical options: 26,891 kg
59,285 lb
Shank spacing: 30.5 cm
12 in.
Row spacing: 30.5-cm side band or 23-cm and 7.6-cm paired row
12-in. side band or 9-in. and 3-in. paired row
Spacing and width #4




Spacing and width #5




Spacing and width #6




Spacing and width #7




Spacing and width #8




Spacing and width #9




Spacing and width #10




Spacing and width #11




Spacing and width #12




Spacing and width #13




Spacing and width #14




Spacing and width #15




Spacing and width #16




Spacing and width #17




Spacing and width #18




Spacing and width #19




Seed Opener
Type #1
Spacing
23 and 7.6 cm
9 and 3 in.
Trip force
0.04 - 0.53 kN
10 - 120 lbf
Paired row
Type #2
Spacing
30.5 cm
12 in.
Trip force
0.04 - 0.53 kN
10 - 120 lbf
Side Band
Type #3



Penetration force


Underframe clearance
Fertilizer Opener
Type #1
Spacing
30.5 cm
12 in.
Fertilizer compatibility
Anhydrous, liquid, dry
Hydraulic precision depth control
Type #2



Mainframe
| | | | | |
| --- | --- | --- | --- | --- |
| Centerframe width | | | | |
| Cross members | | | | |
| End tubes | | | | |
| Hitch | | | | |
| Hitch category | | | | |
| Seeding tool depth control | | | | |
| Mainframe and wing flexibility | | | | |
Fore-Aft Dimensions
Length

Lateral frame clearance, opener to opener
91 cm
36 in.
Fore-aft frame clearance between ranks
40-ft and 56-ft machines: 127 cm
50 in.
76-ft machine: 142 cm
56 in.

Tractor Hydraulic Requirements
Minimum SCVs
Three for 1870; one for AirPower Cart or two for AirPower 2 Cart, Power Beyond, Case Drain, and hydraulic brakes on applicable carts
Tractor hydraulic circuit requirements
One selective control (SCV) for frame lift; one SCV for wing fold; one selective control valve for setting accumulator pressures on 40 ft and 56 ft
Tractor hydraulic pressure requirement
206.8 bar
3000 psi
Tractor Horsepower Requirements
34-ft.
41-ft.
205 kW
275 hp
50-ft.
56-ft. : 261 kW
350 hp
57-ft.
61-ft.
76-ft. : 340 kW
456 hp
56-ft.
76-ft.
Freight
| | | | | |
| --- | --- | --- | --- | --- |
| F.O.B. | Valley City, North Dakota | | | |
Tractor Compatibility
| | | | | |
| --- | --- | --- | --- | --- |
| On-line compatibility guide | | | | |
Financing
Learn more about financing options for this piece of equipment including:
John Deere Revolving Plan account
John Deere Multi-Use account
Installment financing options
Equipment leasing
10 Year Platinum Warranty Package